Leckey Horizon Prone Stander
Item
Leckey-Horizon-Prone-Stander
Sale Price
$5,641.71
Regular Price
$6,637.31
Price Match
We'll match or beat any price..... Guaranteed!
30-Day Returns
As long as the equipment is returned in new, re-saleable condition, within 30 days of the Return Authorization we will refund your original purchase cost without any re-stock fee!

**For the health and welfare of others, we regret that we cannot allow toileting or bathing/shower product returns because of sanitary and personal hygiene reasons. Some manufacturers will not permit returns on certain products. Please check with Customer Service if you have any questions.

There are certain things you must do in the event of a return.

1) Keep your original carton and packing materials for safe transport! Please carefully repack the items in their original packaging so they are secure and tight inside the box. Utilize any plastic bags that came with your order - they protect items from vibration during shipping. 

2) Contact us within 30 days of the receipt of the products. Email us or call us for return instructions and a Return Authorization number.

You must have a Return Authorization number to ensure that your return is processed. 

Some important notes about returns:
You will be responsible for the return shipping cost. To protect yourself, use a delivery service that has a tracking # and insurance. A refund will not be given on merchandise that is lost by the carrier.
If you paid a shipping fee on your original order for expedited, international or other shipping it is Non-Refundable even upon return of your order.
Please note that returns may go back to a different location than they originated from. If you return an item to our warehouse in New York without a Return Authorization Number the cost we incur to ship the item to the manufacturer's warehouse on your behalf will be deducted from the amount of your credit, if any.


If the item cannot be made re-sellable you have the option of:

1. Paying to have the item delivered back to you.
2. Adjustment to credit for a 25% Disposal Fee. 

If you have any questions, please feel free to either email us at info@adaptivemall.com or call us at 1-800-371-2778 or 1-315-429-7112 to reach Customer Service. We are here to help!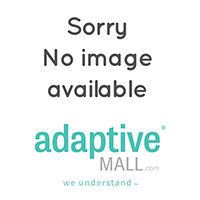 PLEASE NOTE: The Tray and Sandals pictured above are optional accessories that have additional charges.
The Leckey Horizon Prone Stander is a highly versatile power operated stander that offers an open frame design to promote easier access from lifts and wheelchairs. The Horizon Prone stander will promote gradual, weight bearing support in the prone (support on the front of the body) standing position for children with mild to more severe levels of physical involvement. The Horizon Prone Stander can work for children ages 5-18 years, weighing up to 176 lbs. (80 kg).
The Leckey Horizon Stander features a rechargeable powered, adjustable actuator with easy-to-use controls. This feature provides effortless movement and positional change. Simple adjustments can be made to the hip pad, knee supports, chest laterals, footplate and tray to ensure a comfortable fit for almost anyone!
The Horizon Stander's innovative design is sure to provide the appropriate, gradual weight bearing support your child needs, while experiencing therapeutic changes in standing position.
Please note that the pelvic belt dimensions will be larger on the outside due to the bulk of the pads.
The Horizon PRONE Stander can be converted to a SUPINE Stander by purchasing additional accessories. Great for schools and clinics when you have multiple users!
Is this Product Right for You?
Appropriate for children with mild to severe disabilities
Support in the front of the body is needed in a standing position
Also pay close attention to User Standing Height, Chest Height,Trunk Width and Hip to Floor measurements for proper sizing
Questions? Our therapists can help you with a proper fit… to start please click SIZING HELP and complete a simple form, or call us toll free at (800) 371-2778
Do you have a Shipping Dock? Call us at 1-800-371-2778 to find out about a Delivery Discount!
Standard features for the Horizon Prone Stander include:
Stander frame
Independently adjustable Knee Supports
Chest Plate with Flexible Trunk Laterals
Padded Hip Plate & Prone Pelvic Belt Size 0 Only (upcharge for size 1 and 2 pelvic belts)
Minimum to Maximum Girth for the Pelvic Belts

Size 0 = 16 to 24 inches
Size 1 = 20 to 32 inches
Size 2 = 30 to 38 inches

Angle-adjustable footplate (Sandals pictured are an additional cost)
Actuator and Handset
Battery
Charger
Four Lockable swivel castors
Leckey Horizon Stander

Size 1 - Prone Stander
Size 1- Supine Stander
Size 2 -Prone Stander
Size 2 - Supine Stander

Target User Age

5 - 12 years

5 - 12 years

12 - 18 years

12 - 18 years

User Standing Height

39.5 - 55" (100-140 cm)

39.5" - 55" (100-140 cm)

a

55"-71"

-

(140-180 cm)

a

55"-71"

-

(140-180 cm)

Max User Weight

110 lbs. (50 kg)

110 lbs. (50 kg)

176 lbs. (80 kg)

176 lbs. (80 kg)

Shoulder Height (footplate to top of pad)

32.3" - 45.3" (82-115 cm)

32.3" - 45.3" (82-115 cm)

39.5" -57" (100-145 cm)

39.5" -57" (100-145 cm)

Hip Pad Height

17.7" - 29.5" (45-75 cm)

17.7" - 29.5" (45-75 cm)

29.5" - 37.5" (75-96 cm)

29.5" - 37.5" (75-96 cm)

Knee Height (footplate to middle of pad)

9.8" - 17.7" (25-45 cm)

9.8" - 17.7" (25-45 cm)

15.7" - 21.5" (40-55 cm)

15.7" - 21.5" (40-55 cm)

Width between Chest Laterals

8" - 11.8" (20-30 cm)

8" - 11.8" (20-30 cm)

9.5" - 15" (24-38 cm)

9.5" - 15" (24-38 cm)

Footplate Angle Adjustment (+/-) In Degrees

10

10

10

10

Tray Sizes

16.5" x 17.3" (42x44 cm)

16.5" x 17.3" (42x44 cm)

20.5" x 23.2" (52x59cm)

20.5" x 23.2" (52x59cm)

Tray Angle Adjustment In Degrees (Prone)

0 to 40

0 to 40

0 to 40

0 to 40

Tray Angle Adjustment In Degrees (Supine)

20/30

20/30

20/30

20/30

Footprint of Stander 

L x W x H (horizontal)

44.7" x 22.8" x 30.7" (113.5x58x78 cm)

44.7" x 22.8" x 30.7" (113.5x58x78 cm)

50.5" x 25.2" x 31.7" (128x64x80.5 cm)

50.5" x 25.2" x 31.7" (128x64x80.5 cm)

Weight of Stander

90 lbs. (41 kg)

90 lbs. (41 kg)

106 lbs. (47 kg)

106 lbs. (47 kg)