Price Match
We'll match or beat any price..... Guaranteed!
30-Day Returns
As long as the equipment is returned in new, re-saleable condition, within 30 days of the Return Authorization we will refund your original purchase cost without any re-stock fee!

**For the health and welfare of others, we regret that we cannot allow toileting or bathing/shower product returns because of sanitary and personal hygiene reasons. Some manufacturers will not permit returns on certain products. Please check with Customer Service if you have any questions.

There are certain things you must do in the event of a return.

1) Keep your original carton and packing materials for safe transport! Please carefully repack the items in their original packaging so they are secure and tight inside the box. Utilize any plastic bags that came with your order - they protect items from vibration during shipping. 

2) Contact us within 30 days of the receipt of the products. Email us or call us for return instructions and a Return Authorization number.

You must have a Return Authorization number to ensure that your return is processed. 

Some important notes about returns:
You will be responsible for the return shipping cost. To protect yourself, use a delivery service that has a tracking # and insurance. A refund will not be given on merchandise that is lost by the carrier.
If you paid a shipping fee on your original order for expedited, international or other shipping it is Non-Refundable even upon return of your order.
Please note that returns may go back to a different location than they originated from. If you return an item to our warehouse in New York without a Return Authorization Number the cost we incur to ship the item to the manufacturer's warehouse on your behalf will be deducted from the amount of your credit, if any.


If the item cannot be made re-sellable you have the option of:

1. Paying to have the item delivered back to you.
2. Adjustment to credit for a 25% Disposal Fee. 

If you have any questions, please feel free to either email us at info@adaptivemall.com or call us at 1-800-371-2778 or 1-315-429-7112 to reach Customer Service. We are here to help!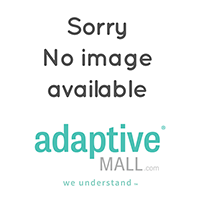 Shown with Optional 4 Wheel Stroller Base and Trunk Supports, sold separately.
PLEASE NOTE: The main price listed above is for the New Bug Seat ONLY. Use the drop-down box to select one of three bases. The price for the base you choose will be added to your total recalculated price once you hit the ""Add to Cart"" button.
Please also note:Ormesa has made a change to the New Bug so that "Old" New Bug seats and bases are not interchangeable with "New" New Bug seats and bases. We regret to inform customers with an older seat or base will need to purchase a whole new unit for a proper fit.
The Ormesa New Bug Seat is a latex-free tilting and reclining seat for children with special needs. The New Bug reclines 0 to 45 degrees from the horizontal and offers 0 to 25 degrees of tilt. With it's built in lateral supports and headrest, the New Bug Seat is recommended for children with mild to severe physical involvement. The New Bug Seat can be positioned on any flat surface without a mobile base.
Optional mobile bases can also be purchased for the New Bug Seat to create the following seating and positioning configurations:
With the optional 4 Wheel Stroller Base (only) , the New Bug Seat has been successfully crash tested for use with approved tie down systems as a bus transportable stroller / pushchair. Features tilt-in-space and reclined positioning for children with increased support needs. PLEASE NOTE: Tie Down Hooks & Padded Vest Harness (sold separately) are both REQUIRED when using the 4 Wheel Stroller Base for bus transportation.
With the 3 Wheel Jogger Base, the New Bug Seat can be used as an all terrain stroller.
With the Hi-Lo Feeder Base, the New Bug Seat can be used as a multi-purpose feeding and fine motor activity chair. 

How to build and buy:
Select the appropriate Seat Size from the Size Chart Tab above.
Choose an Optional Wheeled Mobile Base if desired.
Choose the Optional Positioning Accessories you will need to customize support for your child. 

When ordering Accessories for an Ormessa New Bug you already own, you must provide the Serial Number and size. Please enter the Serial Number and size into the "Comments Section" during the check-out process.
Is this Product Right for You?
Seating and positioning chair with three mobile bases available 
Supports mild to more severe levels of physical disabilities
Recommended for children with special needs up to 100 lbs. (45 kg)
Critical measurements: Hip Width, Thigh Depth, Back Height to Head, Foot to Knee Height, and Weight
Questions? Our therapists can help you with a proper fit… to start please click SIZING HELP and complete a simple form, or call us toll free at (800) 371-2778
Standard Features include:
Calf Strap & Height Adjustable/Elevating Footplate
Adjustable Tilt (0 to 25 degrees) Size 1-3; (0 to 10 degrees) Size 4
Height Adjustable Backrest
Width and Depth Adjustable Seat
Removable, Washable Fire Retardant Cover
Adjustable Back Recline 0 to 45 degrees)
Ormesa New Bug Seating System

Size 1-2
Size 3-4

Seat Depth

7.8 - 11.8 (20-30 cm)

11.8 - 15.7" (30-40 cm)

Seat Width

7.8 - 11.8" (20-30 cm)

9.8 - 14.1" (25-36 cm)

Lateral Support Adjustments

6.7 - 9.8" (16-25 cm)

7.5 - 12 " (19-31 cm)

Backrest Height

19.6 - 23.6" (50-60 cm)

23.6 - 29.5" (60-75 cm)

Backrest Width

14.5" (37 cm)

18.1" (46 cm)

Distance Seat Edge to Footrest

7.8 - 11.8" (20-30 cm)

11.8 - 15.7" (30-40 cm)

Folded Dimensions - Seat (WxL)

34.6 x 13.7" (88x29 cm)

38.9 x 19.6" (99x50 cm)

Backrest Recline from Upright (In Degrees)

+40

+40

Seat Tilt from Upright

 (In Degrees)

0

 - 25

0

 - 20

Seat Weight

17.6 lbs. (8 kg)

26 lbs. (11.8 kg)

Maximum Weight Capacity

77 lbs. (35 kg)

100 lbs. (45 kg)

4-Wheel Base Width

22.4" (57 cm)

24.4" (62 cm)

4-Wheel Base Length

27.1 - 37.4 " (69-95 cm)

31.8 - 42.5" (81-108 cm)

4-Wheel Base Height

30.7 - 42.1 " (78-107 cm)

35 - 48" (89-122 cm)

4-Wheel Base Folded (WxL)

32.6 x 11.4" (83x29 cm)

36.6 x 12.5 " (93x32 cm)

4-Wheel Base Weight

21.1 lbs. (9.6 kg)

23.1 lbs. (10.5 kg)

3-Wheel Jogger Base Width

24.8" (63 cm)

27.1" (69 cm)

3-Wheel Jogger

Base Length

31.1 - 41.7" (79-106 cm)

37 - 50" (94-127 cm)

3-Wheel Jogger

Base Height

31.4 - 42.5" (80-108 cm)

35 - 48" (89-122 cm)

3-Wheel Jogger

Base Folded (WxL)

32.6 x 11.4" (83x29 cm)

36.6 x 12.5" (93x32 cm)

3-Wheel Jogger

Base Weight

23.1 lbs. (10.5 kg)

24.6 lbs. (11.2 kg)

Hi Lo Feeder

Base Width

25.6" (65 cm)

25.6" (65 cm)

Hi Lo Feeder

Base Length

29.5" (75 cm)

29.5" (75 cm)

Hi Lo Feeder

Base Height

15.7 - 31.5" (40-80 cm)

15.7 - 31.5" (40-80 cm)

Hi Lo Feeder Base

Folded (WxLxH)

30x26x11" (75x65x29 cm)

30x26x11" (75x65x29 cm)

Hi Lo Feeder Base

Weight

24.4 lbs. (11.1 kg)

27.7 lbs. (11.6 kg)