Sale Price
$2,092.50
Regular Price
$2,325.00
Price Match
We'll match or beat any price..... Guaranteed!
30-Day Returns
As long as the equipment is returned in new, re-saleable condition, within 30 days of the Return Authorization we will refund your original purchase cost without any re-stock fee!

**For the health and welfare of others, we regret that we cannot allow toileting or bathing/shower product returns because of sanitary and personal hygiene reasons. Some manufacturers will not permit returns on certain products. Please check with Customer Service if you have any questions.

There are certain things you must do in the event of a return.

1) Keep your original carton and packing materials for safe transport! Please carefully repack the items in their original packaging so they are secure and tight inside the box. Utilize any plastic bags that came with your order - they protect items from vibration during shipping. 

2) Contact us within 30 days of the receipt of the products. Email us or call us for return instructions and a Return Authorization number.

You must have a Return Authorization number to ensure that your return is processed. 

Some important notes about returns:
You will be responsible for the return shipping cost. To protect yourself, use a delivery service that has a tracking # and insurance. A refund will not be given on merchandise that is lost by the carrier.
If you paid a shipping fee on your original order for expedited, international or other shipping it is Non-Refundable even upon return of your order.
Please note that returns may go back to a different location than they originated from. If you return an item to our warehouse in New York without a Return Authorization Number the cost we incur to ship the item to the manufacturer's warehouse on your behalf will be deducted from the amount of your credit, if any.


If the item cannot be made re-sellable you have the option of:

1. Paying to have the item delivered back to you.
2. Adjustment to credit for a 25% Disposal Fee. 

If you have any questions, please feel free to either email us at info@adaptivemall.com or call us at 1-800-371-2778 or 1-315-429-7112 to reach Customer Service. We are here to help!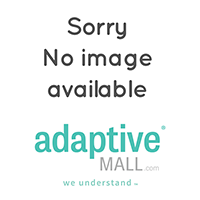 Shown with optional Lateral Hip & Thigh Supports and Abdominal Pad, sold separately.
The R82 Gait Trainer Walker helps the child with special needs to stand vertically, yet be totally supported when balance and support reactions are not present. The wide base with five casters make this gait trainer a very stable system for children who need maximal support to begin walking and gait training.
The adjustable arm and hand rests adapt front to back as well as up and down. A directional lock-out is provided on each Pony Gait Trainer as standard equipment. The seat is comfortably padded and an internal spring reduces spasticity for many children by reducing muscle triggering feedback. The detachable rear support is standard on the Pony Gait Trainer to ensure the child is properly positioned.
The Pony Gait Trainer comes with brakes on three of the five wheels as standard equipment. The Pony Gait Trainers are available in 3 sizes to accommodate toddlers and children up to approximately 9 years old. The leg separator is standard on each gait trainer and prevents scissoring during early stages of gait training. A set of four wheels are mounted in a horizontal fashion above each of the four front casters. They deflect the Pony from base boards, walls, and other objects to help guide the Pony along.
Which size gait trainer to choose? When sizing any gait trainer, both the thoracic support height (measured from the floor to under the arms) and seat height (by the measuring the inseam) are the dimensions to properly size the Pony. Click on the Size Chart Tab above to compare specifications and dimensions.
We know the importance of proper positioning. Our therapists can help ensure that a proper fit is made between your child and the product you are considering. We have an experienced OT and PT on staff to work with you and your therapist.
To start, please click SIZING HELP. Please provide all measurements possible for the best outcome.
Standard features:
Five Swivel Wheels
Adjustable Handlebar
Adjustable Pommel/Sacral Support
Rear Drag Wheel with Directional Stabilizer
Moldable Trunk Support
Front Locking Casters
Leg and Foot Separator
Snug Seat Pony Sizing Chart

Size 0
Size 1
Size 2
Size 3

Approximate User Age

0 to 3 years

3 to 6 years

6 to 9 years

7 to 12 years

Maximum User Weight

66 lbs. (30 kg)

88 lbs. (40 kg)

110 lbs. (50 kg)

165 lbs. (74.8 kg)

Weight

15.5 lbs. (7 kg)

22 lbs. (10 kg)

30 lbs. (13.6 kg)

37.5 lbs. (17 kg)

Tilt Angle In Degrees

90 - 130

90 - 130

90 - 130

90 - 130

Seat Height

9.25 - 14.75" (23.5-37.5 cm)

14.75" - 19.5" (37.5-49.5 cm)

18.75" - 25" (47.6-62.5 cm)

21.5" - 35" (53.75-88.9 cm)

Overall Height - Top of

Trunk Pad

20.25" - 27" (51.4-67.5 cm)

23.5" - 32" (58.75-81.3 cm)

29.25" - 40.5" (74.3-102.9 cm)

39" - 60.75" (99-154 cm)

Overall Length

26.25" (66.7 cm)

28" (71.1 cm)

40.5" (102.9 cm)

48.25" (123.8 cm)

Overall Width

23" (58.4 cm)

27" (68.6 cm)

30" (76.2 cm)

40.25" (102.2 cm)

Lateral Pad Size (Width x Height)

6" x 3" (15 x 7.5 cm)

6" x 4" (15 x 10 cm)

6" x 4" (15 x 10 cm)

6" x 4" (15 x 10 cm)

Minimum to Maximum Width Lateral/Hip Supports

6" - 8.75" (15-22.5 cm)

6" - 8.75" (15-22.5 cm)

6.5" - 10.75" (16.25-27.5 cm)

10" - 14.5" (25-36.25 cm)