Sale Price
$664.95
Regular Price
$685.00
Price Match
We'll match or beat any price..... Guaranteed!
30-Day Returns
As long as the equipment is returned in new, re-saleable condition, within 30 days of the Return Authorization we will refund your original purchase cost without any re-stock fee!

**For the health and welfare of others, we regret that we cannot allow toileting or bathing/shower product returns because of sanitary and personal hygiene reasons. Some manufacturers will not permit returns on certain products. Please check with Customer Service if you have any questions.

There are certain things you must do in the event of a return.

1) Keep your original carton and packing materials for safe transport! Please carefully repack the items in their original packaging so they are secure and tight inside the box. Utilize any plastic bags that came with your order - they protect items from vibration during shipping. 

2) Contact us within 30 days of the receipt of the products. Email us or call us for return instructions and a Return Authorization number.

You must have a Return Authorization number to ensure that your return is processed. 

Some important notes about returns:
You will be responsible for the return shipping cost. To protect yourself, use a delivery service that has a tracking # and insurance. A refund will not be given on merchandise that is lost by the carrier.
If you paid a shipping fee on your original order for expedited, international or other shipping it is Non-Refundable even upon return of your order.
Please note that returns may go back to a different location than they originated from. If you return an item to our warehouse in New York without a Return Authorization Number the cost we incur to ship the item to the manufacturer's warehouse on your behalf will be deducted from the amount of your credit, if any.


If the item cannot be made re-sellable you have the option of:

1. Paying to have the item delivered back to you.
2. Adjustment to credit for a 25% Disposal Fee. 

If you have any questions, please feel free to either email us at info@adaptivemall.com or call us at 1-800-371-2778 or 1-315-429-7112 to reach Customer Service. We are here to help!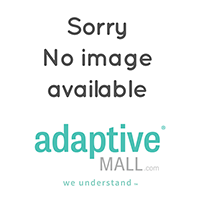 Triaid has created the solution for adaptive tricycles on the playground for bigger kids and young adults! The TUFF Trikes are made with durability in mind. They are available in two sizes appropriate for riders from the average age of 8 to young adults. These TUFF Trikes make staying fit and healthy an achievable goal for those needing minimal assistance to balance on bikes!
The special needs Triaid TUFF Trike is appropriate for riders who would otherwise need minimal assistance to balance on a traditional bike. The wide base of this adaptive tricycle makes it very stable.
This special needs tricycle is manufactured to last through years of riding on playgrounds and in gym classes! The oval, steel frame is strong and sturdy. The tires were specifically chosen for their all-terrain treads to pedal through almost anything. The handlebars are high up to help the rider to maintain an upright position for easier pedaling. The wide saddle seat is depth adjustable to make sure that the seat is placed in the correct position in reference to the pedals for each child. The seat has a quick-release lever to adjust the depth – NO TOOLS REQUIRED! The Steering limiter controls the amount of degrees of steering to prevent finger trap issues and to provide greater stability for the user.
To find the Triaid TUFF Trike that is right for your child's special needs please click on the "Size Chart" tab above.
Is this Product Right for You?
Sturdy trike appropriate for riders from age 8 to young adult with minimal balance issues
All-Terrain tires
Adjustable depth for the saddle seat
Questions? Our therapists can help you with a proper fit… to start please click SIZING HELP and complete a simple form, or call us toll free at (800) 371-2778
Standard Features include:
Powder-coated,oval steel tubing frame design for durability
.All-terrain tires
Steering limiter
NO TOOL, Depth adjustable saddle seat
Wide saddle seat
TUFF
Trike
Size 1
Size 2

Overall Length




40 (101.5 cm)

45" (114 cm)

Overall 

Width

28.75"
(73 cm)
28.75"
(73 cm)

Overall Height

37"
(94 cm)
40"
(102 cm)
Distance to Pedals (min)

22" (56 cm)

26" (66 cm)

Distance to Pedals (max)

26" (66 cm)

30" (76 cm)

Maximum User Weight
220 lbs.
(100 kg)
300 lbs.
(135 kg)