Sale Price
$3,073.50
Regular Price
$3,415.00
Price Match
We'll match or beat any price..... Guaranteed!
30-Day Returns
As long as the equipment is returned in new, re-saleable condition, within 30 days of the Return Authorization we will refund your original purchase cost without any re-stock fee!

**For the health and welfare of others, we regret that we cannot allow toileting or bathing/shower product returns because of sanitary and personal hygiene reasons. Some manufacturers will not permit returns on certain products. Please check with Customer Service if you have any questions.

There are certain things you must do in the event of a return.

1) Keep your original carton and packing materials for safe transport! Please carefully repack the items in their original packaging so they are secure and tight inside the box. Utilize any plastic bags that came with your order - they protect items from vibration during shipping. 

2) Contact us within 30 days of the receipt of the products. Email us or call us for return instructions and a Return Authorization number.

You must have a Return Authorization number to ensure that your return is processed. 

Some important notes about returns:
You will be responsible for the return shipping cost. To protect yourself, use a delivery service that has a tracking # and insurance. A refund will not be given on merchandise that is lost by the carrier.
If you paid a shipping fee on your original order for expedited, international or other shipping it is Non-Refundable even upon return of your order.
Please note that returns may go back to a different location than they originated from. If you return an item to our warehouse in New York without a Return Authorization Number the cost we incur to ship the item to the manufacturer's warehouse on your behalf will be deducted from the amount of your credit, if any.


If the item cannot be made re-sellable you have the option of:

1. Paying to have the item delivered back to you.
2. Adjustment to credit for a 25% Disposal Fee. 

If you have any questions, please feel free to either email us at info@adaptivemall.com or call us at 1-800-371-2778 or 1-315-429-7112 to reach Customer Service. We are here to help!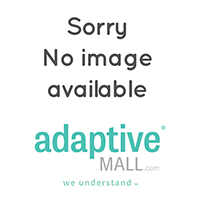 The R82 Gazelle P/S Stander is a latex-free prone, supine, and upright stander in one. It is a stander designed for children up to 14 years old. The Gazelle Stander can easily position children with mild to more severe physical involvement by just adding a few accessories for increased trunk and head support. This stander is available in 3 sizes and will accommodate children weighing up to 176 lbs.(80kg).
The Gazelle stander can be easily readjusted to change from supine to prone to upright standing positions. With this versatility, the stander will enable a child to follow a comprehensive standing program in therapy, in the classroom, or at home.
Therapists, teachers, and especially parents will love the Gazelle Stander's many easy-to-use features. The Gazelle Stander comes standard with locking casters that make moving the child while still in the stander a simple task. With light pressure to the foot pedal, the Gazelle Stander can be tilted from vertical to a position beyond horizontal for effective drainage. The Gazelle Stander folds to a compact size small enough to fit in most trunks making it great for the family "on-the-go". 
Is this Product Right for You?
Prone, supine or upright stander for children with mild to more severe physical involvement
Recommended for children up to about 14 years old
Portable and folds for easy storage
Critical measurements: Trunk Width, Floor to Chest Height, Hip Width, Inseam
Questions? Our therapists can help you with a proper fit… to start please click SIZING HELP and complete a simple form, or call us toll free at (800) 371-2778
To find the Gazelle prone, supine, upright stander that is right for your child's special needs, please view the Size Chart.
Standard Features:
Prone, Upright or Supine capabilities in one frame
Past horizontal positioning for drainage
Reversible footrests & knee supports
Swing-down bracket with pommel & back support
Gas spring assisted angle (vertical to horizontal drainage position) 90 to -15 degrees
Tilt angle gauge
Removable back support & trunk strap
Locking casters
Manual leg separator
Gazelle Stander

Size 1
Size 2
Size 3

Approximate User Height (prone)

26 - 46" (65-115 cm)

32" - 53" (80-132.5 cm)
36" - 67" (90-167.5 cm)

Approximate User Height (supine)

16" - 46" (40-115 cm)

20" - 51" (50-127.5 cm)

22" - 57" (55-142.5 cm)

Maximum User Weight

88 lbs. (40 kg)

132 lbs. (60 kg)

176 lbs. (80 kg)

Weight of Stander

44 lbs. (20 kg)

48 lbs. (21.7 kg)

53 lbs. (24 kg)

Frame Length

30" (76.2 cm)

35" (89 cm)

39" (99 cm)

Frame Width




19" (48.3 cm)

23" (58.4 cm)

26" (66 cm)

Torso Support Width (Top-Bottom) A-C

9.5" - 12.75" (23.75-32.4 cm)

11.5" - 15.25" (28.75-38.7 cm)

13" - 17.25" (32.5-43.8 cm)

Torso Support Length - B

10.75" (27.3 cm)

12.5" (31.8 cm)

14.5" (36.8 cm)

Standard Trunk Extension Width

7.25" (18.4 cm)

8.5" (21.6 cm)

10.25" (26 cm)

Standard Trunk Extension

Height (min-max) - E

4.5" - 8.5" (11.4-22.6 cm)

4.5" - 8.5" (11.4-22.6 cm)

4.5" - 8.5" (11.4-22.6 cm)

Pommel to Footrest (min-max) - D

9.5" - 18.5" (24.1-47 cm)

12.5" - 22.5" (31.8-57.2 cm)

12.5" - 26.5" (31.8-67.3 cm)

Pommel to top of Torso Support (min-max) - H

9" (22.5 cm)

10.5" (26.25 cm)

12.5" (31.25 cm)

Knee Block Height from Pommel (min-max)

4.5" - 14" (11.25-35 cm)

5.5" - 19.5" (13.75-48.75 cm)

6.5" - 22" (16.25-55 cm)

Positioning Angle

90° to -15

°

90° to -15

°

90° to -15

°

Footrest Dimensions (WidthxLength)

2.5" x 6.5" (6.25x16.25 cm)

3" x 8.5" (7.5x21.25 cm)

3.5" x 9.5" (8.75x23.75 cm)

Small Lateral Pads (WxH)

4.75" x 4.75" (11.5x11.5 cm)

4.75" x 4.75" (11.5x11.5 cm)

4.75" x 4.75" (11.5x11.5 cm)

Large Lateral Pads (WxH)

5" x 7" (12.5x17.5 cm)

5" x 7" (12.5x17.5 cm)

5" x 7" (12.5x17.5 cm)

Tray Dimensions (WxD)

23" x 21" (57.5x52.5 cm)

23" x 21" (57.5x52.5 cm)

23" x 21" (57.5x52.5 cm)